Create Your Own Printable Board Game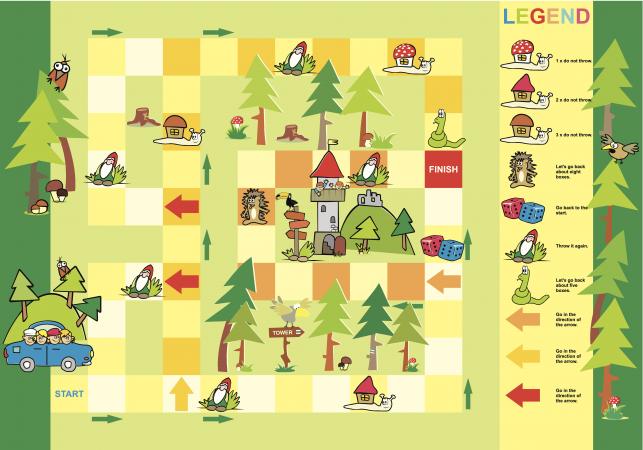 Board games can be great fun, but they can also be expensive. Instead of buying new games every time you want a different one to play, try creating your own printable version. It's fun and easy to do and makes a good family craft project on a rainy day. Coming up with an original game idea can be just as entertaining as playing the game itself.
Board Game Templates to Print
If you've already got some rules in mind and are looking for a game board to print, you can use the following free templates. These images are all in .pdf format:
You can easily customize these boards with special spaces, decorations, and other embellishments before or after printing. If you need help downloading the printables, check out these helpful tips.
Board Game Creators
Different websites and software can help you create your own printable board game. Some are complicated and designed for those who want to make professional board games, while others offer templates and easy-to-use formats for the recreational or younger board game designer.
Board Game Maker
The Board Game Maker from Tools for Educators lets you create game boards with just images or boards with images and text. Choose from a variety of categories, including animals, question words, places and science. Board games have around 15 to 20 picture spaces, and you can choose which pictures to put on the board and the text you'd like to include. Once you have chosen the pictures and text, click "make it" to create and print your board game. Sample board games are available to help you get ideas or to print and use as your own.
Microsoft
Templates are available from Microsoft to help you design your own board games and playing cards using components of Microsoft Office. The tutorial and files from Microsoft provide you with step-by-step instructions for creating your own game, including adding digital photos and other images to the game board. You are limited to the four available board game templates however, which means you cannot be as creative with your game design.
DLTK's Custom Bingo Cards
If Bingo is your board game of choice, create a custom came with DLTK's custom Bingo cards. Choose from a 3x3, 4x4 or 5x5 picture Bingo card or a 5x5 number card. From there, choose a theme, black and white or color, and whether to include vocabulary. You may also print out blank Bingo cards to add your own information. The downside to this creator is that images and words are chosen for you. It's a good option for a Bingo game based on one of the available themes, but not for a truly customized version.
Other Board Game Creation Options
The Game Crafter
The Game Crafter allows you to create a professional-looking board game and actually have a prototype of the game built. To use The Game Crafter, you download the templates, then upload your game information. The company will provide you with the cost of creating your game and you may buy it at that price or, if it's really good, sell it to others at a profit.
Make Your Own Opoly
It seems like there's a version of Monopoly for nearly everything. Make Your Own Opoly allows you to add to the list with your own one-of-a-kind version of the game. The kit comes with the materials and instructions required to print your own cards, money and other game components.
Ideas for Board Games
It helps to have a few ideas down before creating your actual board game. Ask yourself these questions to guide the process:
What is your game about?
How do you win?
Will the game be pure fun, educational or a little of both?
Is your game a straight dice roller where players move on a linear track or will players need to role play, play mini games, or follow another format?
Do you need dice or can a spinner be used?
Will you use cards in conjunction with board spaces?
If you are not sure what kind of game to make, use Board Game Geek as a resource. This site is the online expert in all things board games where you can find nearly any board game ever made. Use these games to inspire you on your quest to create your own printable board game.
Play Away
Once you have created your new board game, gather together family and friends to enjoy a round or two. As you play, you will likely find changes that need to be made to the game. Don't be afraid to alter the rules, add new components to the game or completely change how the game is played. After all, you want your game to be as enjoyable as possible. You may discover that you have created your family's newest favorite game for family game night!