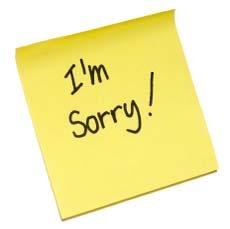 The Sorry board game is an easy-to-play, classic old favorite game of luck, strategy and determination for 2 to 4 players, ages 6 to adult. It is usually best enjoyed by players ages 8 to 11 - younger players tend to get frustrated, and older players might be bored unless they play the "alternative rules."
History
The earliest versions of the Sorry game were played in England in the early 1930s. It was seen as a variation of Parchessi, a very popular game from India. Americans started to enjoy Sorry and it was adopted by Parker Brothers in 1934. It has remained a popular board game and has been played by generations of Americans, as well as board gamers worldwide.
How to Play Sorry
The Sorry board game is easy for kids or adults. It only takes about 30 minutes to play. You start by selecting your "start" and "home" locations and your four pawn movers. You begin your turn by picking a card and following its instructions to determine your next move. For example:
Move one pawn 5 spaces forward
Move one pawn 7 spaces forward or split the 7 spaces between two pawns (for example, five spaces for one pawn and two for another)
Move a pawn from start OR move a pawn 2 spaces forward, AND draw again regardless of whether the player can move or not
You continue to move your pawn mover around the board trying to get into your home space. Pawns are normally moved in a clockwise direction, but could be moved backwards. If you knock another player's pawn mover off the board you just say "Sorry!" and move on. You never know what turns the next card might cause - you might be moving forward or backward, you might be switching places with another player or you could land on a slide and slide to the end while you knock everyone on the slide back to the start. Another player may draw a card that tells them to bump you back to the start.
Game Pieces
1 game board
16 pawn movers
1 deck of Sorry cards
WARNING: CHOKING HAZARD-Small parts. Not for children under 3 years
Winning the Game
The winner is the first player to get all four pawn movers from the start square to the home square.
Tournament Play
There are alternative rules included in the game for tournament play by older kids and adults. This version requires more planning and strategy than the basic rules. Each player starts and ends each turn with five cards in their hand. They can plan attacks and defenses and then use their turn to choose how to use one or more of their cards to achieve their goal.
Point Play
Some players like to play a points-version of the game in which the winner is the first player to accumulate a certain amount of points over several games. Points are awarded for various scenarios:
5 points - To any player with a certain number of their own pieces in home space
5 points - To winner for each opponent's piece which is not in the home space
25 points - To winner if no opponent has more than two pieces in the home space
50 points - To winner if no opponent has more than one piece in the home space
100 points - To winner if no opponent's pieces have reached the home space
Learning Benefits
Because it is so fast and easy to play it can be a lot of fun for a quick game for a group of adults and younger children. This is also a great game to:
Reinforce reading and math skills for younger children
Entertain groups of children of different ages - you just need one child who can read the cards and help the little ones count off their moves.
Involve children and adults with emotional or learning disabilities into group play with other adults and kids.
Versions
Sorry! Fun On the Run Game
Sorry! Simpsons
Sorry! Library Edition
Sorry! Spider Man 3 Edition
Where to Buy the Sorry Board Game