Monopoly Board Game Options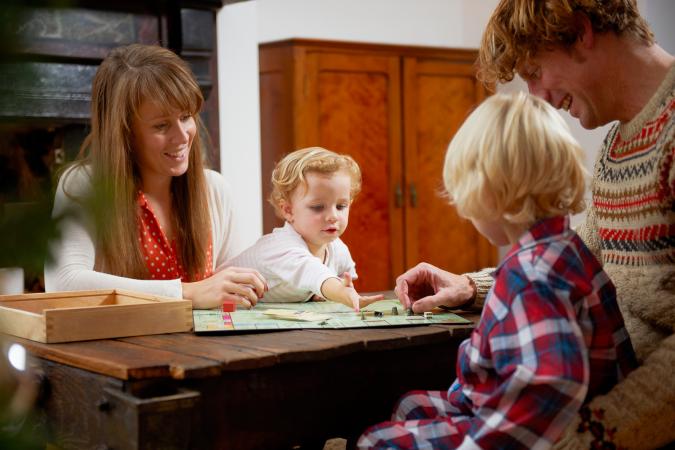 One of the challenges for manufacturers has been keeping Monopoly fresh and appealing for new audiences, especially in an age of electronic games and video gaming systems. A successful approaches utilized has been with specialty versions and additional options with updated features.
Here and Now
Monopoly Here and Now was the first time fans of the game helped design the game board. In 2006, Hasbro encouraged fans to vote via the internet on which 22 popular destinations in the U.S. should be the properties on the board. The contest was a throwback to the original concept of the places on board, based on Darrow's favorite vacation city. Other key changes to the game included:
More realistic prices for properties were included. The value of the new properties was the price of the original property x 10,000. So, for example, the purchase price for Camelback Mtn., Phoenix (Kentucky Ave. in original game) was $2.2 million instead of $220.
A player now started the game with $15 million instead of $1,500.
Utilities were changed to Internet Service Provider and Cell Phone Service Provider.
Tokens were a Toyota Prius, a Starbucks Coffee Cup, McDonald's French Fries, a New Balance running shoe, a Labradoodle, a jet airplane, and a laptop computer.
Luxury tax was replaced with Interest Due on Credit Card Debt.
The Here and Now World edition in 2008 followed the same concept as the original except it used international destinations for the properties. The only other significant difference was the World edition also featured electronic banking instead of paper money.
Current Options
In addition to the original version, Hasbro currently sells several themed versions. License holder Hasbro expanded the reach of themed games when, in 1994, it entered into an agreement with USAopoly to create unique versions of the game. These games have ranged from National Parks to Major League Baseball themes. New games currently available for sale include:
Monopoly Cheater's Edition
In this version, players are encouraged to cheat using "cheat cards." Be careful though, if you're caught the game includes plastic handcuffs to be placed on cheaters sent to jail. The game is recommended for ages 8 and up and for 2 to 6 players.
Monopoly Gamer Edition
This Monopoly game features beloved video game characters like Mario, Bowser, Donkey Kong and Yoshi.
It's made for 2 to 4 players ages 8 and up.
The game uses coin instead of paper money and there are special dice with "power up" abilities.
And of course, being a video-game focused game, there are battles with bosses.
Monopoly Game of Thrones Edition
Based on the popular HBO show, this edition has properties from locations in the fabled land of Westeros and railroads are family houses from the show instead. The gameboard pieces are based on the show with tokens like a dire wolf, iron throne, three-eyed raven and a white walker. Unlike some other versions of Monopoly, this game is designed for adults.
Monopoly Rick and Morty Edition
The Adult Swim cartoon gets its own version of Monopoly that will delight fans of the show.
The tokens are based on the Rick and Morty world with a portal gun, Snuffles' Helmet and Rick's car.
Properties are Flooble Cranks and Gobble Boxes and the money is based on Flurbo.
The manufacturer recommends players be 17 years and older.
Monopoly Despicable Me 2
This version, designed for children 5 and up, still centers around buying and selling properties but inside the Despicable Me world. There are 16 properties instead of the normal 22, and rather than paper money players collect Banana Bucks.
Junior Versions
Choose from the classic Junior game or the Disney Princess edition.
Both games follow the same rules, but the Disney version includes eight princesses as tokens.
These games are designed for children ages 5 to 8 and use a smaller board with fewer properties.
Properties are called amusement rides in the Junior game and are Disney characters in the Princess version.
Electronic Banking Version
This game is played the same as the original with the only significant difference being that players use debit cards instead of cash. This version does have a couple of intriguing tokens like a Segway and a space shuttle.
Other Themed Versions
The list of themed versions offered by USAopoly is extensive and changes annually. The company maintains lists for out-of-print and current versions. To find a current list of games, visit the USAopoly website.
Secondary Market
The secondary market is filled with out-of-print collectible games. The value and price of these games will vary widely, but most modern games only hold their value if the theme is highly sought after and the game is in New in Box (NIB) condition. In other words, unopened and unplayed, complete with shrink wrap.
The Simpsons editions: USAopoly released two Simpsons-themed games: Treehouse of Horror Edition in 2005, which has now been discontinued, and The Collector's Edition in 2001. The collector's version included six pewter tokens of Bart, Homer, Kang, Blinky, Santa's Little Helper and Jebediah Springfield. Hasbro released an electronic banking version of the game in 2009 featuring Homer's voice. The Treehouse of Horror NIB edition sells on eBay for $60 and up and the NIB Collector's Edition for $30 and up.
Pokémon: The 1995 Parker Brothers edition seems to be the more collectible of the two Pokémon versions with unopened games selling for more than $100 on Amazon. The Pokémon Gold and Silver version was released in 2001. Both versions use original rules but have a variation on the double roll rule, replacing it with Pokémon Powers.
SpongeBob SquarePants: Released by Hasbro in 2005, the game centers around Bikini Bottom. Instead of houses, the game uses pineapples and instead of hotels, Krusty Crab restaurants. The goal of the game is to collect the most clams. Unopened NIB versions sell for $50-$99.
The Franklin Mint Collector's Edition: This game is truly high end, with a wood cabinet, gold foil stamped properties, a leather die area and 18 karat gold tokens and hotels. Prices for a used edition of the game run from $100 to $400.
Monopoly Collector's Tin Train Edition: This game, released in 2003, is packaged in a unique tin train-shaped box. The banker's tray and deed card holders have a train theme and the houses are wooden with foil stamps on the wood hotels. Tokens come in metal with a velvet carrying pouch. The game can be found in limited quantities at some major retailers and on sites like Ebay for around $30 to $50 used and up to $400 for a NIB version.
Spin-Off Monopoly Games Availability
Over the years, Hasbro and Parker Brothers have tried to build off the popularity of Monopoly with various spin-off games. As these spin-offs get updated and changed, they may no longer available from major retailers but can be purchased from sites like Ebay or from re-sellers at Amazon and other websites.
Monopoly Empire
In this game, players try to build a tower consisting of the world's top brands. One of the more interesting features here is noticing which brands did and did not make it into the game. For example, Yahoo did, but Google did not.
Monopoly Hotels
A two-player game where you try to build your hotels faster than your opponents while simultaneously sabotaging their efforts.
Monopoly Millionaire
Although somewhat similar to the original version in format, the twist to the game is that you no longer need to bankrupt opponents. Simply be the first to become a millionaire to win.
Even the Tokens Change
In 2013 Hasbro decided to freshen up the classic game again, this time creating a month-long voting contest on Facebook to decide which of the tokens should be retired from the game and replaced by a cat. By securing only eight percent of the vote, the classic iron token was retired. While Monopoly remains a beloved game decades after it was first released, Hasbro continues to find new ways to change and update every aspect of Monopoly.