14 Holiday Board Games That Guarantee a Jolly Good Time
LoveToKnow is a participant in affiliate partnerships, and may receive a share of sales from links on this page. These partnerships do not influence our editorial content.
Enjoying Board Games Over the Holidays
Looking for ideas for fun holiday board games? There are several options for games with themes specific to the holiday season. Playing board games is a great family activity that children and adults alike can enjoy. When you add a holiday oriented board games to your collection of family-oriented activities, you'll be on your way to establishing new traditions that you and your loved ones can enjoy for years. Who knows? When your children are grown, they'll likely carry on the tradition you started with their own families. Then you'll be able to enjoy playing fun holiday board games with your grandchildren!
Christmas Trivia Game: 'Tis The Season
More Details"
Test your knowledge of Christmas trivia with 'Tis the Season. This game is an Amazon's Choice product with a 4.4 out of 5 star rating from over 100 reviewers. The game is suitable for children, adults and families. You can also use it with a Trivial Pursuit board if you have one on hand.
Rudolph The Red Nosed Reindeer Christmas Journey Board Game
More Details"
The Rudolph the Red Nosed Reindeer Christmas Journey board game is an Amazon's Choice product with an average rating of 4.3 out of 5 stars. The game is based on the beloved classic animated holiday show and is suitable for children eight years and older.
Dreidel Roulette Game
More Details"
This wooden dreidel roulette wheel gives a new spin on the traditional Hanukah game. The game is for children six and older. Reviewers on Amazon give the Dreidel Roulette Game five stars and cite its solid wood construction and fun family gameplay.
Christmas Scavenger Hunt Game
More Details"
A fun-filled exercise for the whole family can be had with the Christmas Scavenger Hunt. The game is suitable for children six and up and the whole family can get involved playing individually or in teams. There's also decks for indoor and outdoor hunts so depending on the weather you can spread the activities over a wider area. The game gets five stars from Amazon reviewers
Happy Diwali Bingo Cards
More Details"
During the Diwali Festival of Lights, it's traditional to play games and enjoy the company of friends and families. Bingo, or various versions of it, are often played during the holiday. These Diwali themed bingo cards with accompanying markers will be a hit at any Diwali celebration.
The Santa Claus Game
More Details"
An excellent choice for younger children is The Santa Claus Game, which is designed for two to four players aged three years or older. This game won a National Parenting Center Seal of Approval. The object of the game is to teach children about the importance of giving to others and is fun teaching tool for children to play together or with adults.
Maccabees Board Game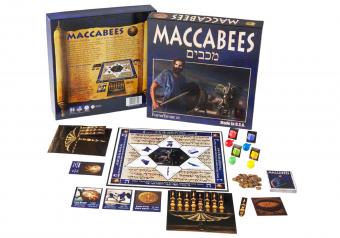 More Details"
This board game tells the story of the Maccabees and how the first Hanukah came to be. The game is designed for players eight and older. BoardGameGeek gives the game a seven out of 10 rating and users cite its usefulness as a fun, light way to introduce children to the history of the Jewish holiday.
Any Reindeer Game
More Details"
Another Christmas themed game that children will enjoy is the Any Reindeer Game. Amazon reviewers give the game five stars and like the fact that you can play with up to 10 people. It's also just as fun playing with adults as with children. The attractive game board also comes in a Santa "sack" instead of a box which gives it an extra holiday touch.
Ticket to Ride: Nordic Countries
More Details"
Ticket to Ride is an immensely popular board game and the Nordic Countries expansion gives a festive, winter setting to the classic game. It can be played as a standalone game without the original version. BoardGameGeek gives the game a 7.6 out of 10 rating and
12 Days
More Details"
12 Days is a card game designed for play with the whole family. It's suitable for children eight and up and for three to five players. The game's cards have beautiful stained-glass themed art celebrating the classic Twelve Days of Christmas carol. It gets five stars from users on Target and it's an Amazon's Choice product. It's a perfect family game for the holidays because the rules are simple and rounds are short so many people can get to play if you have a larger family gathering.
Love Letters: Letters to Santa
More Details"
Love Letters: Letters to Santa is the holiday version of the game Love Letter which is played with a deck of cards and involves risk and deduction. The rules are simple but it's a surprisingly engaging game that all ages will enjoy. It also comes in a small red velvet bag, making it a perfect stocking stuffer.
Cards Against Humanity Holiday Pack
More Details"
Not all holiday games need necessarily be "family friendly." If you have a holiday party with adults who want to play a fun game with more mature themes, the popular Cards Against Humanity is an excellent choice. There are even expansion packs for the base game with holiday themed questions. The base game gets an average rating of 4.8 out of 5 stars from over 34,000 happy users on Amazon.
Sequence Jewish Edition
More Details"
Another popular game for parties is Sequence which is suitable for children seven and up and for groups of up to 12 people. Families celebrating Hanukah might enjoy getting the Sequence Jewish Edition instead, which is a fun way for children to learn more about their religion, history and the importance of Hanukah. Amazon users give the game 4.8 out of 5 stars with over 800 reviews.
Playing Board Games Over the Holidays
The holidays are a terrific time to play board games, whether you have a family with young children or are hosting a party for adults. There are many games with holiday themes, but don't feel limited to just these games. Any game you and your friends and family enjoy coupled with some holiday cheer makes for a memorable event for all involved.