Printable Scrabble Score Sheets
Scrabble is one of the world's most popular word games. As the game stokes the spirit of competition, it is easy to use up all the score sheets that come with the board game. Rather than purchase more score sheets, LoveToKnow has created downloadable scoresheets that you can print out at home.
Using the Score Sheet
Each printable contains eight separate scorecards. At the top of each scorecard is a blank "Player" box where players can write their names. Each score card consists of three columns: one noting the turn, one to write the word played that turn, and one to write your point total at the end of that turn. Alternatively, you can write in the number of points earned each turn and add them all up at the end of the game.
Downloading the Score Sheet
These score sheets are great for games of Scrabble no matter how many people are playing. Click any of the thumbnails below to open a printable PDF in another tab. From that new tab, you can download and print the PDF. If you need help, refer to LoveToKnow's Guide for Adobe Printables.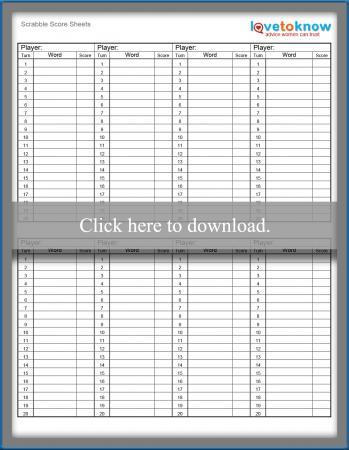 Keep the Competition Alive
Print as many of these score sheets as you need and come back when you need more!